Program No. 4. Endoscopic procedures (placement of balloon)
Prices for the most popular services provided by the 6th City Clinical Hospital
Program No.4. Endoscopic procedures and surgeries.
Consultation by an endoscopist and a general practitioner;
Chest X-ray;
Complete blood count, urinalysis, blood chemistry, coagulation profile, blood type and Rh, RW;
ECG;
Surgery, anesthesia;
Inpatient care for 3 days;
Consumables, medications, meals;
Price for the balloon: from $1000.
Cost of the Program:
Placement of intragastric balloon with a view to losing weight: from $1500.
To learn more about the program, please call us on +375 17 245 25 12 or contact us at Адрес электронной почты защищен от спам-ботов. Для просмотра адреса в вашем браузере должен быть включен Javascript..
No matter how happy we may be, a disease may cast gloom over our happiness. Today, most of the diseases may be easily diagnosed and treated. Endoscopic procedures and surgeries are one of the most effective methods of diagnosis and treatment.
What is endoscopy?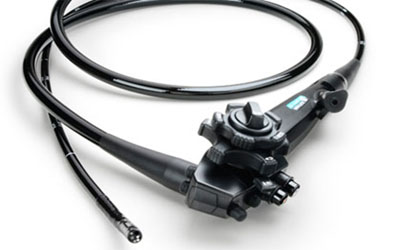 Endoscopy is a diagnostic technique and a method of treatment. Endoscopic procedures and surgeries are performed with the help of an endoscope. An endoscope is a medical instrument, which is inserted into the body through the natural orifices (mouth, pharynx, etc) or tiny incisions. The incisions are not longer than 5 mm. All modern endoscopes have cameras and an auxiliary light source. The camera transmits images to the screen, so a doctor may get information about the state or changes of a patient's internal organs.
Endoscopy is used in:
surgery
pulmonology
gynecology
urology
gastroenterology
There are the following types of endoscopic procedures:
Cystoscopy (examination of the urinary bladder);
Vaginoscopy (examination of the vagina);
Sigmoidoscopy (examination of the straight intestine and sigmoid colon);
Colonoscopy (examination of the large intestine);
Intestinoscopy (examination of the small intestine);
Esophagoscopy (examination of the esophagus);
Bronchoscopy (examination of the bronchi);
Thoracoscopy (examination of the pleural cavity);
Laparoscopy (examination of the abdominal cavity), etc.
The specialists of the 6th City Clinical Hospital developed the diagnosis and treatment program "Endoscopic procedures and surgeries". It is one of the six programs for the diagnosis and treatment of various diseases. Besides, our specialists use the capsule endoscopy technique to examine patients and prescribe them effective treatment.